JFF's intrepid team has made no less than four off-shore trips over the last two months – to Bondowoso, Jember and Banyuwangi in East Java, and to West Kalimantan with the Indonesian Air Force participating in Sail Kalimata, an annual event promoting tourism in remote parts of Indonesia.
East Java, with its huge population and high incidence of poverty, is fertile ground for JFF's humanitarian work. During the three programs there in September and October, the team screened a total of 6,645 people with eye problems, distributed glasses to 3,536 people with vision problems and 1,290 bottles of eye drops to those with eye infections. A total of 482 people who were blind with cataracts received sight-restoring operations in JFF's mobile eye clinics.
Sincere thanks to the generous donors who sponsored the East Java programs – FeelGood Designs, RoundTable Hong Kong, WonderWork, Perth Eye Hospital Foundation, Des Lim & Jing Gong and charitable trusts donating through JFF(UK).
World Sight Day in West Kalimantan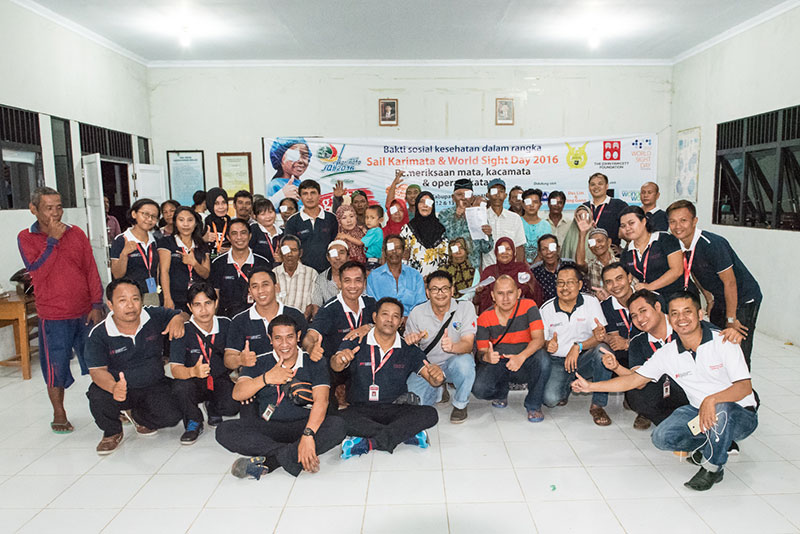 This year JFF participated in the Sail Karimata event, which coincided with World Sight Day, working in conjunction with the Indonesian Air Force which covers the JFF team's travel and accommodation costs, as well as Air Force ophthalmologists working with JFF's team doing cataract operations. The area was quite remote with a small population living in very poor conditions and without access to specialist medical attention. During this event, the team screened 1,194 people with eye problems, issued glasses to 743 and eye drops to 200, and operating 56 blind people who can now see again. This program was sponsored by the New Zealand Embassy, Des Lim & Jing Gong and WonderWork.