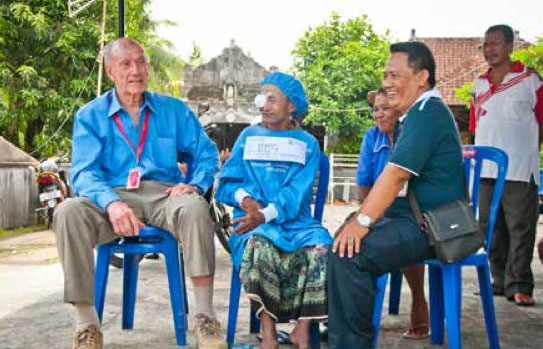 JFF Loses a Loyal Son and Friend
Wayan Sukajaya, aged 47, died suddenly after a brief illness in Bali on Thursday 4 August 2016.
A tribute to Wayan Sukajaya who lived one of the most remarkable lives in the little time that he had, rising from total obscurity and poverty to making one of the most significant contributions to the less fortunate in his society that one can find. He had an ability to make friends at the highest government level and to win respect and support in his negotiations to improve the care and treatment of the poor.
A devoted husband to Ayu and father to Shashi, Ambha and Krisna, and a caring son to his ageing mother who in many ways was the source of his family strength and belief systems, Wayan also had a strong commitment to the Balinese culture and society.
Born in 1969, Wayan became known to John Fawcett in 1979 as a 10-year-old who was suffering from a severe case of TB, and required multiple programs of treatment to eventually achieve a cure. Wayan was an exceptional student at school and won scholarships throughout his early schooling as well as a scholarship to university. He kept in touch with John Fawcett through his mother who worked at John's house.
In 1989 he started assisting John with the cleft lip and palate program, acting as the spokesperson for the program in the hospitals where surgery took place. He became a driving force in the development of the mobile eye clinic for cataract surgery which began in 1991, and from that time, he became a key staff member. This program developed rapidly with the establishment of the Community Eye Hospital in Bali, later renamed the Indera Hospital, where some of the free eye surgery for poor patients was carried out, under the auspices of the Eye Program.
Wayan pushed for the setting up of an Indonesian foundation (Yayasan Kemanusiaan Indonesia) to establish the legality and government acceptance of the humanitarian programs. This was achieved in 2000, along with the establishment of The John Fawcett Foundation in Australia in the same year. Following the Bali bomb in 2002 the Foundation assisted with the treatment of 63 Indonesian victims who suffered from severe burns and other injuries. Wayan Sukajaya had a key role in the organization of this treatment including travel arrangements for those who were treated in Australia.
Wayan became Chairman of the Yayasan Kemanusiaan Indonesia in 2011 following the passing of Dr Dewa Putu Sudana, the previous Chairman. He served on the staff of JFF as Senior Projects Manager, a pivotal role in the Foundation, for 15 years, overseeing the development of the Foundation to become one of Indonesia's best- known organizations, providing 48,000 sight-saving operations and eye care to around one million people across the Indonesian archipelago. The staff of JFF are determined to continue his work and dedication and will be continually inspired by his example.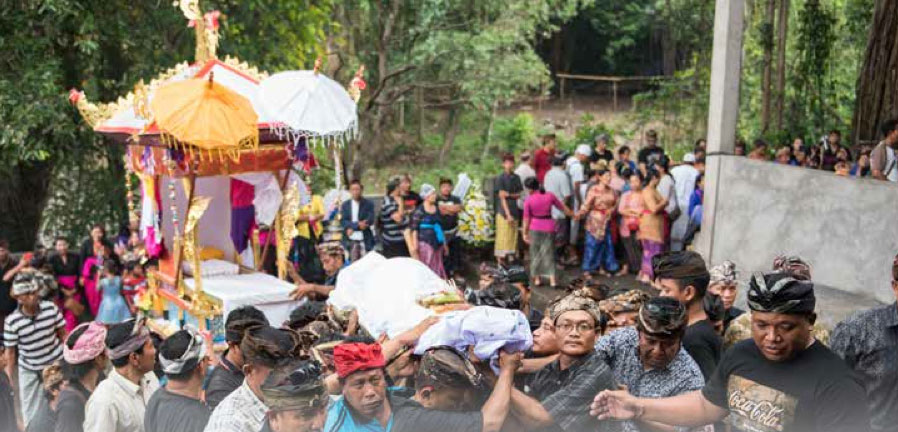 Gifts to Wayan Sukajaya's Family
If anyone wants to send their condolences to his family by way of a gift, the best way is to help his wife and children with money to enable the children to continue their education. While JFF cannot receive donations for this purpose, our Bali office is happy to receive cash for Wayan's family, and Mr Win Jones, Chairman of JFF, (tel: 08 9386 4080) will receive cash donations in Australia and bring them to Bali on his next visit. Or transfer to the following bank accounts:
Indonesia
BRI Unit Keramas
Desa Keramas, Blahbatuh,
Gianyar, Bali, Indonesia
Acc Name: Sang Ayu Md Widrayani S
Acc : 4656 01006 255531
Swiftcode: BRINIDJA
Australia
Westpac Bangking Group Nedlands WA
Acc Name: W L & M J Jones
Acc: 547568
BSB: 736 304